"A successful and prosperous country will value its past. The people that wish to live in a country, needs to accept the traditions that it can share. I have full respect for Russia's timeless heritage. We have some of the greatest Russian writers who have helped us understand the complexities of the human experience, and recognize eternal truths. From Dostoyevsky to Pushkin, Chekhov to Solzhenitsyn, to Russian Composers like Tchaikovsky and Rostropovich. Indeed, Russia's Heritage has touched every corner of the world, and speaks to the humanity that we share. That includes my country here in the good ole United States of America, which has been blessed with Russian immigrants, for decades we've been enriched by Russian culture, and enhanced by Russian cooperation. The Russian American community has shown a concerted effort in preserving its unique heritage which is a vital link to our cultural, educational, aesthetic, inspirational, spiritual and economic legacies – all of these elements that literally make us who we are."
— Kato Hetschinoff, Russian Heritage President —
Russian Heritage Board of Directors
President
Kato Hetschinoff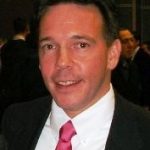 Kato grew up in a Russian American family in New York before going to Moscow Russia to work for 25 years as a business entrepreneur. Now back in St. Petersburg, Florida, he looks forward to celebrating his "heritage" on the R.H. board and in several other Russian organizations in the Tampa Bay Area. He believes in preserving culture, traditions and values which are important in a heritage, but also in the beauty and wellbeing of a great nation.
Email: [email protected]
Vice President
Victoria Peppard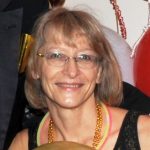 Victoria came to America in 1993 to study at N.Y.U. and she has lived in Tampa since 1994. She is a professional interpreter. Victoria has been a member of Russian Heritage since its founding. In 2015 she became a board member and in 2019 a Vice President. Victoria serves as a liaison person for coordinating many R.H. and U.S.F. joint projects and has a special place in her heart for children's programs. The New Year party "ELOCHKA" is one of them.
Finance Director
Corey Holt Merenda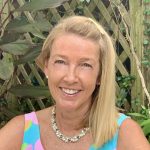 Corey is not of Russian descent but is very interested in the people, history, culture and politics of Russia and has taught herself the language. She received a B.A. from the University of Iowa in German and Music (piano performance). She then received an M.M. from the Eastman School of Music. Aside from music and foreign language endeavors, she currently runs her own business, Studio B Design Concepts, Inc., designing hotel interiors.
Email: [email protected]
Board Secretary
Evguenia Davenport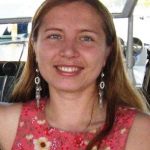 Evguenia Davenport teaches at the University of South Florida with a special interest in Russian Language and Literature and Spanish Language and Culture She has been active in Russian Heritage book group, having facilitated the discussion of Russian literary classics. She has also led student groups to Latin America.
Janna Aleksa
Janna Aleksa Velez was raised in Russia near the Ural Mountains in the
industrial city Kurgan (established in 1659 as Tsaryovo Gorodishche,)
known for the Trans-Siberian Railway line, home of Ilizarov Scientific
Center for Restorative Traumatology and Orthopedics, and largest
Machine-building factory in Russia. Janna received a veterinarian
technician degree and worked in a vet clinic for a few years. As a
Russian folk lover and an actress at heart, Janna, in her teen years,
performed at local cultural events and fundraisers and volunteered with
the church to visit and support foster homes, playing guitar and
singing. She moved to the US in 2001 with her two years old son and
started her journey as a Realtor, then CNA, LPN, and Registered Nurse.
In between, Janna got into Real estate investment, flipped several
homes, managed a multi-unit Airbnb, created and managed an event venue
at a private airport, and worked as a concierge IV infusion medic. Now a
nurse with 14 years of hospital experience, working on her Master's
degree as a Nurse Practitioner and owning a Medical spa, Janna is
committed to promoting authentic Slavic culture, folk, and food. She
loves Florida's gorgeous beaches, laid-back lifestyle, sports, music,
animals, and art.
Natalya Halprin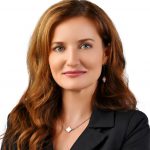 Natalya was born in a small town in Uzbekistan that was famous for its concrete manufacturing factories. At the age of six, her parents and 2 of her siblings moved to Stavropol region in a resort town called Essentuki. That was a big change: from the pollution to the most pure region in Russia. After graduating high school, she decided to become an English teacher, that's what helped her with a choice of Pyatigorsk Linguistic University. She graduated with psychology and English degree. In 1999, the university offered to the students an opportunity to travel to U.S.A. and she moved to St. Petersburg, Florida where she met her husband of 22 years. She has 2 beautiful daughters. Home design, architecture was her passion that she decided to pursue and became a real estate agent. By now, she has over 18 years of experience in real estate industry: selling, building, remodeling. Her work was featured on News Chanel 8, St Petersburg Times newspaper, local magazines and Netflix, "Selling Tampa Bay" a reality show.
Zhanna Thomas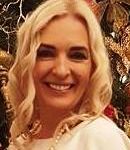 Zhanna is creative designer from Odessa who produces stylish clothing and fancy set designs. She is well connected to many groups in the Russian American community and has supported many Russian Heritage projects such as the SPIFFS Folk Fair and the Winter Ball.
Honorary Member: Margo Catsimatidis