Book Discussion: "A Gentleman in Moscow" — March 10, 2018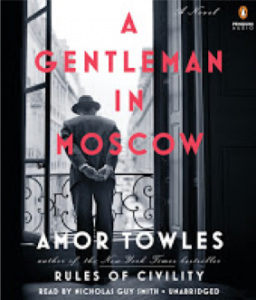 "A Gentleman in Moscow" has been on the Best Seller List for 47 weeks, and is being widely discussed by people interested in Russia.   Set during the Soviet Union's turbulent early 1920s and after, A GENTLEMAN IN MOSCOW tells the story of Count Alexander Rostov. When he is deemed an unrepentant aristocrat by a Bolshevik tribunal, the count is sentenced to house arrest in the Metropol, a grand hotel located between the Kremlin and the Bolshoi Theater.
You may have a chance to read this novel before March 10, but even if you don't read it you can enjoy hearing a discussion led by people who have been at the Metropol Hotel, eaten at Count Rostov's restaurant, or enjoyed the atmosphere of the Kremlin and the Bolshoi Theater. You can also find much interesting information on line about this novel if you do not have a chance to read it in its entirety.
The discussion will be on Saturday, March 10 at 3:00 pm at the Russian American Club in Gulport (2920 Beach Blvd. S).  If you have not visited the Club this is a great opportunity.  This program is free and open to the public.