FATHERS AND SONS: Friday, November 9, 2018
To mark the 200th anniversary of Ivan Turgenev's birth in 1818, Russian Heritage will present a program on Turgenev's "Fathers and Sons". This novel is considered one of the classics not only of Russian Literature but also of World Literature, ranking with the novels of Tolstoy and Dostoevsky. This event on November 9 will feature readings from the novel in English and selections from a film version in Russian, followed by the commentary of several professors of literature and a general discussion.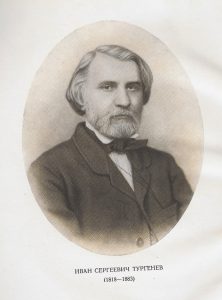 We hope you will consider reading (or re-reading) the novel before November 9. It is available on line and in most libraries. If you are not able to read the entire novel before the event, you might read at the first 10 chapters, or just come to the program to be entertained and enlightened.
The program begins at 4:00 PM on Friday, November 9, 2018 at the Main Public Library, 3745 9th Ave N, Saint Petersburg, Florida 33713.  Free and open to the public.