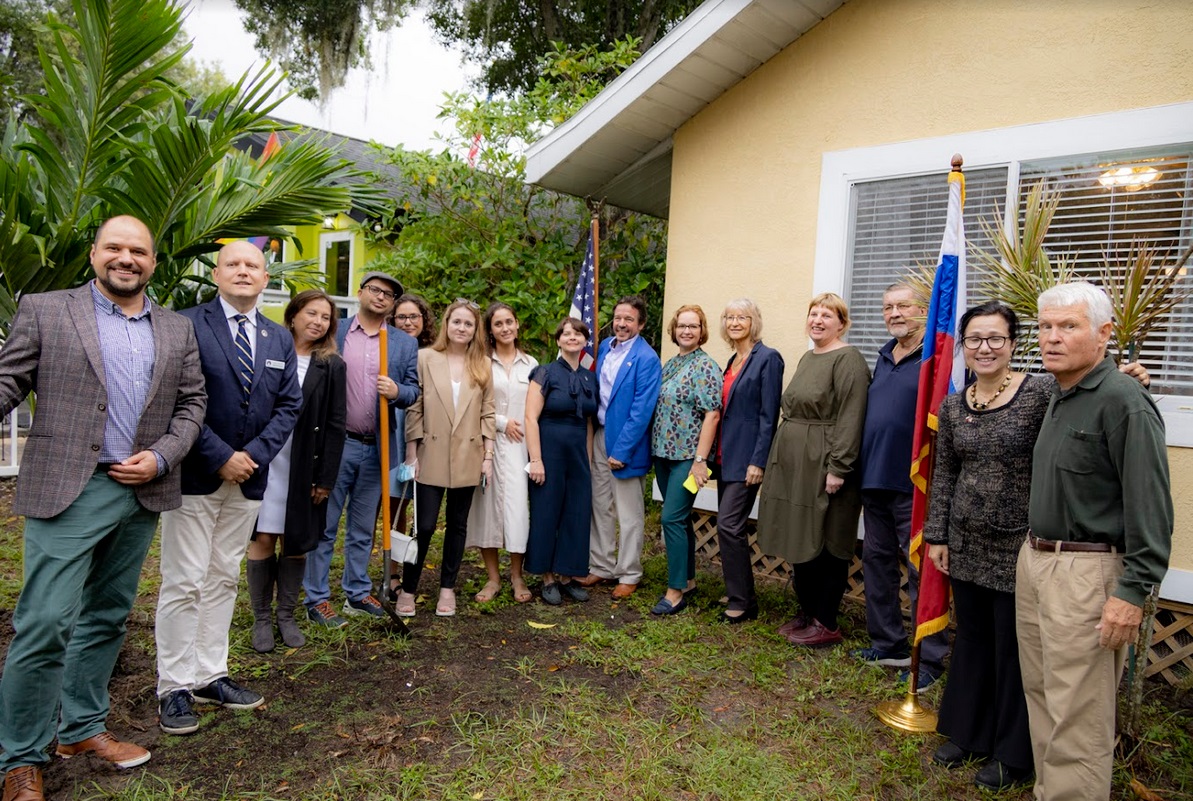 Sister Cities Off to a New Beginning
Photo credit to "PELAK STUDIOS" Paul Pelak: https://www.pelakstudios.co/
Sister cities St. Petersburg, Florida, and Saint Petersburg, Russia, were finally reunited through a program organized by Russian Heritage Organization (Saint Petersburg, Florida), the Open World Leadership Center (Washington D.C.) and the University of South Florida (Tampa, Florida).
A group of six Saint Petersburg Russian delegates and one director from Open World, arrived to Tampa International Airport and spent the first week of November 2021 in the Tampa Bay area, mostly in the Saint Petersburg, Florida. The delegates were a combination of professors, teachers, artists and journalists. Probably the main purpose of this exchange is to help re-establish good relationships between the United States and Russia. Taking into consideration that their trip took place just before U.S. borders reopened doors to Europeans and Russians traveling to the U.S. following the pandemic closure. Yet another reason for this program is to break stereotypes, according to some of the Russian delegates.
The deputy dean of the school at Saint Petersburg Higher School of Economics, Aliona Vandisheva, stated that she hopes people can learn how to put politics aside when forming opinions about other people. "We can listen and learn from each other. It will help us find more opportunities between us."
The delegates had a chance to visit 'The Dali Museum' which coincidentally, Dali's wife was a Russian, whose name was Gala, Dali used her in many of his paintings too, which are displayed at the museum. They also went to the 'Imagine Museum' where the host showed them around the various glass art.
There were a few dinner gatherings at the Russian Heritage Board Members houses. Thanks to Zhanna Thomas and Evguenia Davenport for their wonderful hospitality. Victoria Peppard was not just the translator at some of the events, but played an important role in organizing many of the scheduled gatherings.
The delegates spent some time discovering the area, watching the Tampa Bay Lightning game, a day at St Pete Beach and they also went to Gulfport Florida during their stay.
On November 5th, 2021, we had a "Friendship Tree Planting Ceremony" at the Russian American Club in Gulfport. The club hasn't been lively in previous years, prompting a restoration that brought Russian officials, a palm, and the City of Gulfport together for the ceremony that is symbolic in bringing life to the historic space. Kato Hetschinoff, President of the 'Russian Heritage' organization stated, "We want to combine the two cities and connect them," Kato, a Gulfport resident, said. "We are planting Florida's version of a birch tree (a symbol of Russia] which is a palm." The location is in Gulfport, not Saint Petersburg, but it's close enough to city limits that the coordination between both Saint Petersburg, Florida and Saint Petersburg, Russia makes sense.
"We're hoping this could lead to some joint programs with universities and such," said Alexander Khilkov
a representative who is the Regional Director of the Open World Leadership Center based in Washington DC. "We hope over time we'll be able to see some positivity and outreach between the two cities. We need these links because building a network like this will only make us stronger."
Khilkov, along with several other international and local visitors, attended the tree planting alongside City of Gulfport Councilmember Paul Ray and John Rodriguez, the Government Affairs Director at City of Saint Petersburg, Florida. John oversees the City's Sister Cities and Twin Cities programs.
"The newly named Congressional Office for International Leadership (COIL)'s place as the only international exchange program in the legislative branch provides opportunities for members of Congress and their constituents to engage with their peers from countries of strategic importance to the United States," stated Jane Sargus, the executive director of Open World. "This next generation of government and civic leaders begin their program in the halls of the most powerful legislative body in the world, the United States Congress, and end in communities across the United States, such as Saint Petersburg. The exchange establishes personal and profound connections between leaders from around the world, providing unique and meaningful insights and experiences, while fostering a spirit of cooperation and mutual respect."